The First Annual NewDay USA Leadership Awards
The First Annual NewDay USA Leadership Awards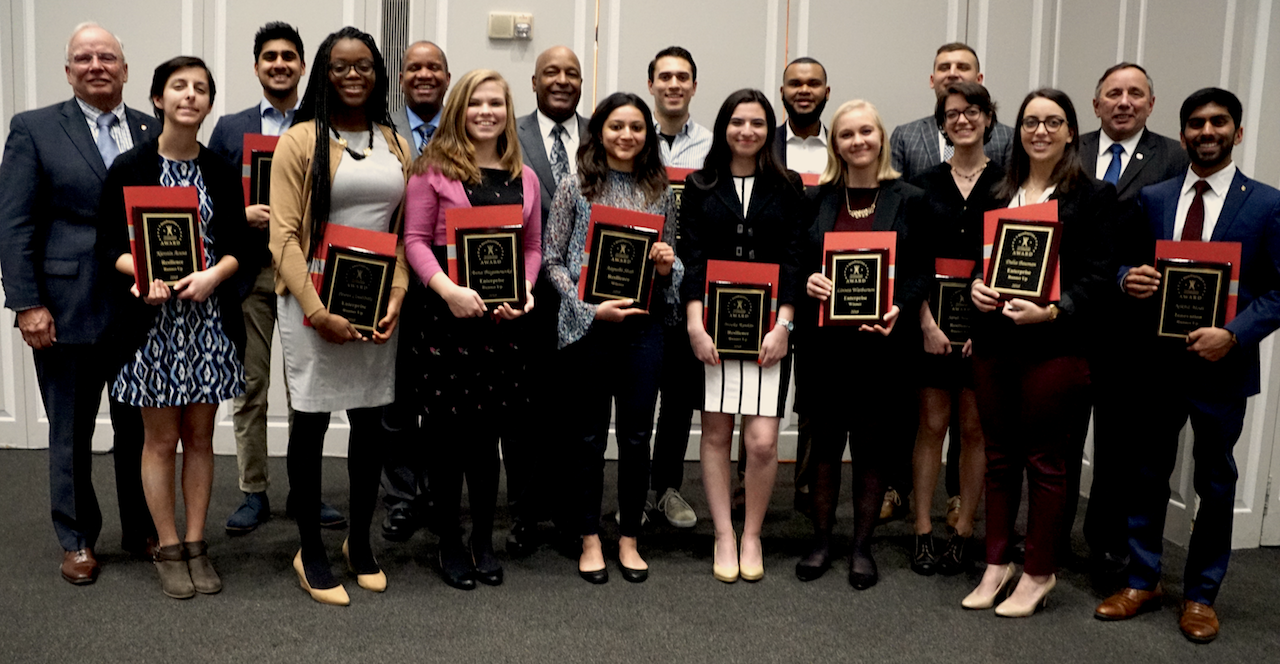 The first annual NewDay USA Leadership Award Ceremony was held on Wednesday March 6th 2018.  The Ed Snider Center for Enterprise & Markets, housed at the University of Maryland's Smith School of Business, teamed up with New Day USA, a mortgage company that serves veterans and their families, to recognize and celebrate the achievements of exemplary Sophomore and Junior University of Maryland students.
The ceremony's host and a member of the selection committee, Beatriz Winn, Associate Director of Strategic Engagement at the Ed Snider Center, is thankful to NewDay USA for investing in UMD students by "recognizing character-driven leaders that are entrepreneurial, resilient and innovative."
In addition to Beatriz Winn, the other members of the selection committee include UMD alumni (Frank Goertner, Strategic Planner in the US Navy, and Allison McLeod,  Talent Manager at McKinsey & Co.), Smith School of Business Assistant Dean (Patricia Reich), Senior Director for Corporate and Foundation Relations  (David VanLone), and Associate Director of the McNair Scholars Program at Univ. of Maryland (Rhea Roper Nedd, PhD)
The NewDay USA Character Driven Leadership Awards of $1200 were bestowed on three winners in the categories of Enterprise, Innovation, and Resilience. In addition a total of 9 finalists were awarded $300 apiece. Franco Greco, Vice President of Loan Operations at NewDay USA introduced each of the finalists and announce the winner on each of the three categories.
In the Category of Enterprise, the awards went to students that exhibit leadership skills through teamwork and collaboration.  The finalists were Dalia Bauman, Poiret Coulibaly, and Ana Bieganowska. The winner, Linnea Warburton, was selected for founding the College Access Project, a multi-organizational effort to guide and support high school students from disadvantaged backgrounds to apply for college and obtain financial aid.
In the Category of Innovation, awards were given to creative leaders with an optimistic vision of the future who have helped organizations to achieve growth and drive change. The finalists were Bryce Hammond, Nikhil Modi, and Veeraj Shah. The winner in this category,  Noah Vernick, was selected for founding the organization D4 Athletics and creating an innovative way of engaging students on social projects through sports.
In the Category of Resilience winners exhibited a growth mindset and through their actions they build trust. The finalists in this category were Brooke Rankin, Sarah Joseph, and Kierstin Acuna. The winner of this category was Aayushi Shah selected for co-authoring the book "Voices Against Sex Slavery in America" and becoming an advocate of survivors and their families.
The Ed Snider Center for Enterprise & Markets firmly believes that social progress is born of individuals who are passionate about making the world a better place. That's why we were thrilled partner with NewDay USA to celebrate these impressive student leaders with the NewDay USA Character Driven Leadership Awards.
Stevi Calandra is the Media and Marketing Director for the Ed Snider Center for Enterprise & Markets.