Student Leadership Awards – 2019
Student Leadership Awards – 2019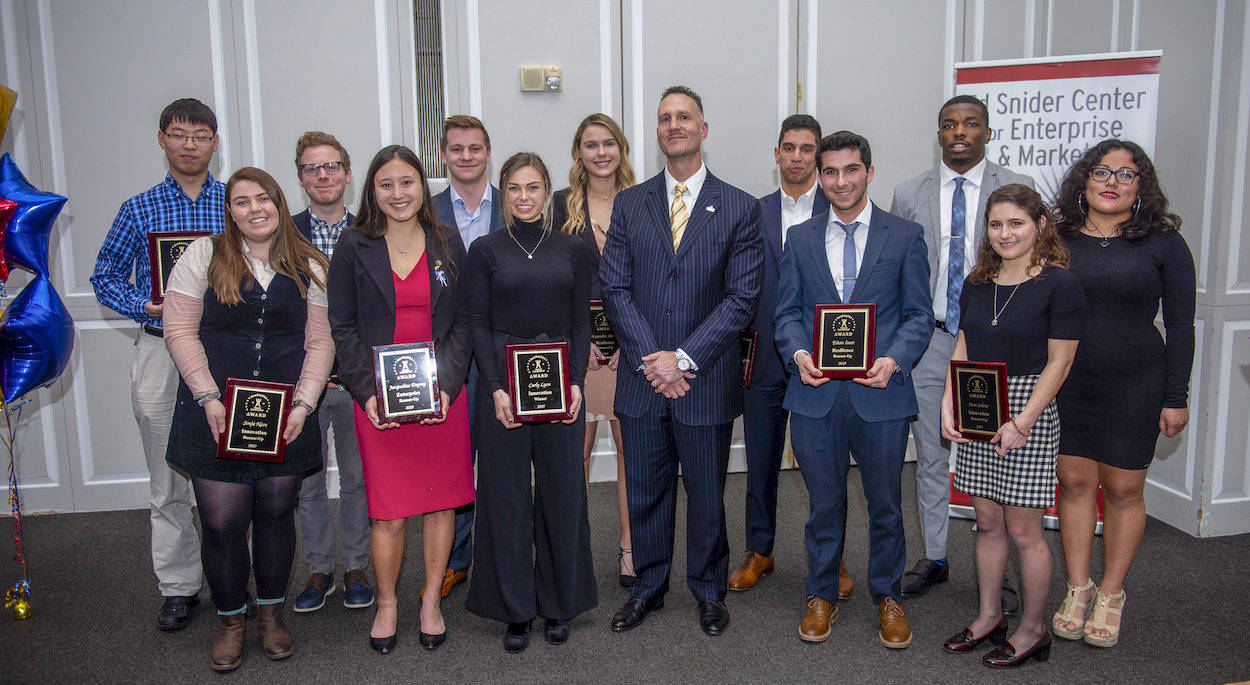 The 2019 NewDay USA Leadership Awards finalists joined by Larry Silver, a Senior Vice President at NewDay USA.
A festive display of blue, red, and gold star-shaped balloons marked the entrance to the banquet room in the Riggs Alumni Center, where twelve hopeful finalists, together with their friends and families, waited to see if they were the ones to pull down one of the top three NewDay USA Student Leadership Awards.
The NewDay USA Student Leadership Awards are a collaboration between the Ed Snider Center, and NewDay USA, a mortgage company whose mission is to serve American veterans. The awards honor students who lead by example, and make positive contributions to society. Students encouraged to apply were those whose work fits into one of three categories: Innovation, Enterprise or Resilience. Finalists were chosen on March 1, 2019.
"The job of selecting finalists and winner of each category was not an easy task," said Christina Elson, Managing Director of the Ed Snider Center for Enterprise and Markets. Students applied for the awards themselves.  The application process was comprehensive: students were required to fill out an application, write two essays about personal inspiration and leadership qualities, and get a letter of recommendation. 
"This is a very impressive group of students, with a wide variety of backgrounds," said Larry Silver, Senior Vice President of Operations for NewDay USA said. Silver, a University of Maryland alum, told me that NewDay is a national company, with a local presence, and the people that they hire are exactly the kinds of students that the Smith School produces. "We're a mortgage company, but we're also a firm that develops leaders," Silver said. "It really makes sense for us to sponsor these awards. There's a lot of synergy there."
June Solow, a Senior and Public Health Science major was a finalist in the Innovation category. She runs a program called, "Public Health Without Borders," that brings various public health initiatives to locations in Peru, Sierra Leone, and India. Recently, the group has also begun a partnership locally—with a school in nearby Langley Park. "Our programs vary, based on responses to community surveys that we conduct," she said. "We've done basic workshops on handwashing, oral rehydration, and maternal nutrition." Recently, she recalled, they'd begun an anti-bullying program at a school in Peru, and were planning on bringing a similar one to the school in Langley Park. She plans to attend medical school after graduation.
Ultimately, the top prize in the Innovation category went to Carly Lyon, a Junior Mechanical Engineering major. She completely revamped the academic tracking program for her sorority, Alpha Xi Delta. "The academic tracking program we had was terrible," she said. "It was easy to lie about how much time you were studying, and the incentives were terrible." Lyon told me that she revamped how study hours were tracked, and she created even greater incentives for good grades. "I realized that for the most part 18 – 22-year-olds don't respond well to being told what to do," she said. "I decided that they should find their own motivations to succeed." Lyon started academic nights at her sorority, created better scholarship opportunities, and called out academic successes publicly to increase motivation. She instituted greater cash prizes, too. "I think it's better to create incentives, rather than punish," she said. After graduation, Lyon hopes to have a career in supply chain doing project management or some other kind of leadership role.
Adam Hostetter, a Junior Finance and Marketing double major, took away the top prize for Enterprise because of his work as student Co-Director of the SURE program. The SURE program offers students, regardless of major, the opportunity to do individualized research. "Undergrad students come with an idea for something that they really want to research," said Hostetter. "We work with them to really hone that idea." Participants are paired with a mentor, and work to develop writing, analytical and critical thinking skills. "I joined the program my Freshman year, and it helped me so much," he said. "I wanted to give back." Hostetter's parents attended the event with him. "I'm so grateful for their inspiration and support," he said.
"What's most impressive," Patricia Reich, Assistant Dean and Executive Director for the Office of Career Services at the Smith School, said, "is the individual voice that these young people bring to their projects." Reich, who was on the committee who selected the winners told me that despite being young, the students aren't afraid to own an idea, and commit to making something happen. "It's a sign of things to come for the good of others," she said. "And we need as much of that as we can get."
The idea of doing good for others was central to Michael Khizgilov's conception of Resilience, the category in which he took top honors. The Junior Finance major said that he'd always attempted to bring positivity and optimism to others, and had developed his own sense of resilience by overcoming significant physical challenges. He's committed, he told me, to helping others find their sense of purpose and their passion, and particularly likes mentoring Freshman and Sophomores by helping them find their unique voices. "I'm very grateful to have won," he told me. "I honestly wasn't expecting it- I was just happy to be a finalist."
Each finalist received a cash prize of $300.00. The three who took home the top prize in each category were awarded $1200.00. All finalists and winners received a commemorative plaque.
The students cheered and congratulated one another, each beaming as they posed for photos.
As a Smith School Center for Excellence, the Ed Snider Center is committed to bringing forth world-class research in enterprise and markets.  The Center sponsors the Student Leadership Awards because of its commitment to fostering future thought leaders, who bring innovation, positivity and a sense of meaningful entrepreneurship to business.
"You are the leaders of tomorrow," said Elson. "We are here to help you unlock your individual potential, create a purpose-driven life of your choosing, and take up the challenge of solving really important problems in the world."
Lia Kvatum is a freelance writer and producer based in Washington, DC.  In addition to the Ed Snider Center, her clients include The National Geographic Society, The Smithsonian Institution, PBS, and the Washington Post.  More of her work can be seen at LiaKComms.com.