The Unexpected Impact of Dodd Frank
The Unexpected Impact of Dodd-Frank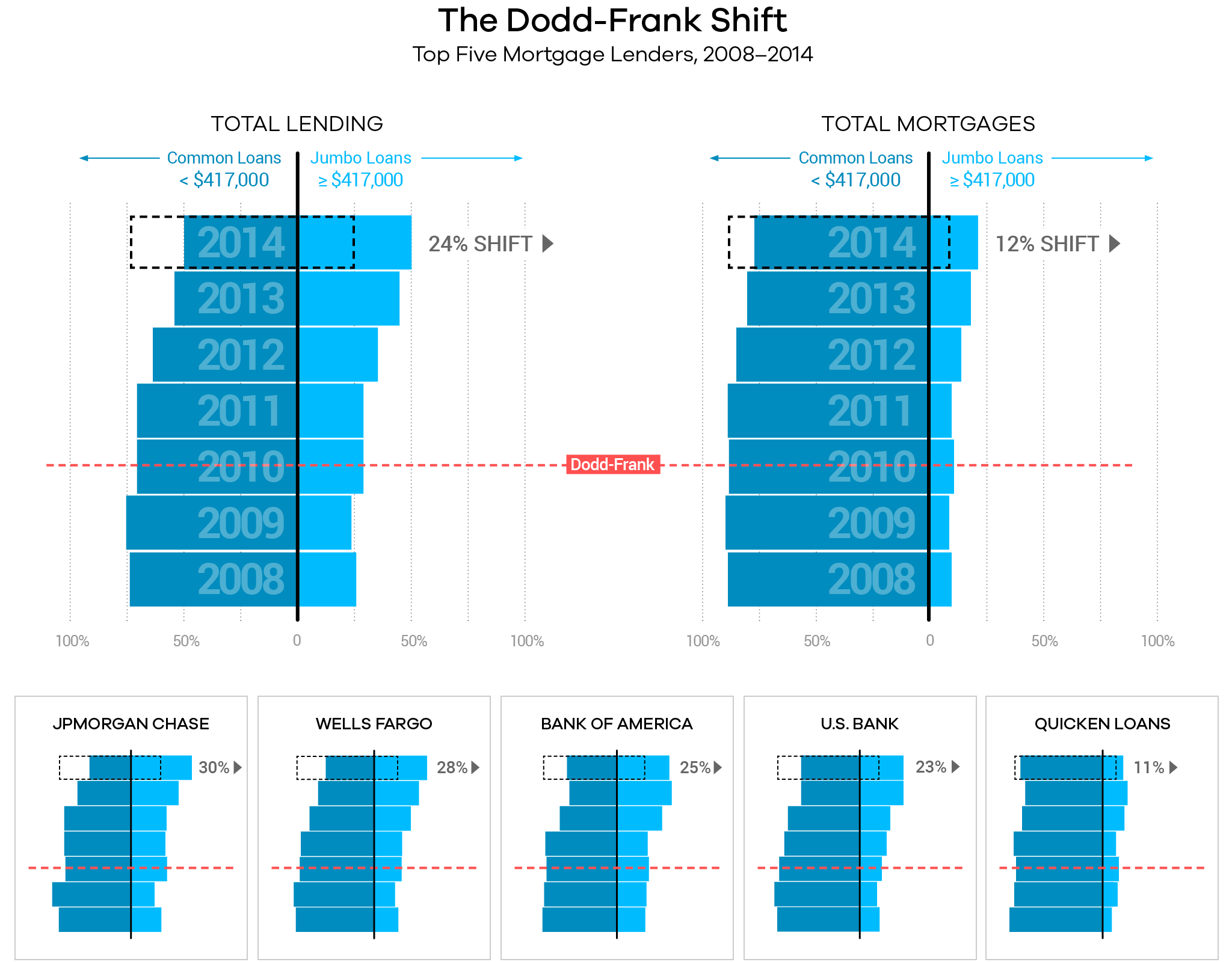 Economists are debating why middle-class households have not resumed consuming at pre-2008 levels even as the government has implemented several costly policies to stimulate consumption. Middle-class homeownership, especially, has not regained steam. A new paper by Francesco D'Acunto and Alberto Rossi of the Smith School of Business at the University of Maryland shows that middle-class mortgages may be becoming scarcer every year as lenders react to shifting incentives brought on by regulatory measures in the Dodd-Frank law.
In the wake of the 2008 financial meltdown, Dodd-Frank was put into place to address particular trading, investing, and lending practices. One section of the law focused on mortgage lending and was geared towards mitigating practices leading to the origination of home loans with a high risk of failure. At its passage in 2010, there was no way of projecting how businesses would react to the costs of implementing Dodd-Frank.
In this graphic, data visualizer Bill Rapp drills down on five residential mortgage originators that together represent almost a third of all American mortgage lending.* He shows overall patterns, in both total dollars lent and total mortgages, as well as specific patterns for each lender, demonstrating a dramatic shift away from the kind of loans that allow middle-class families to buy homes, in favor of jumbo loans available to wealthy households.
These patterns are more fully borne out in the D'Acunto and Rossi paper that aggregated data from the Home Mortgage Disclosure Act, Zillow, and the American Community Survey on hundreds of lenders. The analysis also addressed alternative explanations for the pattern that could have come from changes in the private-label securitization market, risk management policies of lenders, and possible trends towards wealth polarization in America.
"What we are seeing," say D'Acunto and Rossi, "is a redistribution of mortgage credit from the middle class to the wealthy and that goes against the aims of Dodd-Frank. Our results show that middle-class households haven't been able to get cheaper mortgages. Dodd-Frank may be unintentionally contributing to keeping the middle class out of the home buying market."
* Source: Mortgage Daily. Top five mortgage originators represented 32.1% of all U.S. mortgage lending in 2015.
Christina Elson is the Managing Director of the Ed Snider Center for Enterprise and Markets. You can learn more about her on LinkedIn.